Quinn Vehicles pick up the 2014 Innovation Award at the 2014 Fleet Transport Awards in City West Hotel.
The Award was for the recently release ArchCool 1360 Semi Trailer that has just been released into the Irish Market.
The MD of Quinn Vehicles, Micheal Quinn said that "he was delight to win such a prestigious award for the new product".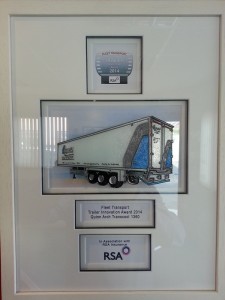 The Fleet Transport Awards 2014, took place on Thursday 10th October 2013 at the Citywest Hotel, Dublin.